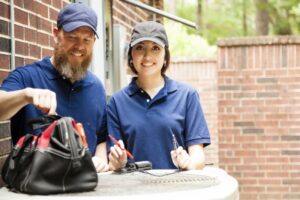 When your air conditioner breaks down on a sweltering hot day, you might be tempted to call the first contractor who shows up in the search results. We know how quickly you want to schedule AC repair in the heat of summer but choosing just anyone can result in making the problem worse, not better. 
That's why it's important to know the factors that you should take into account when choosing an AC contractor before you ever get to that triple-digit day with a broken-down AC. Most homeowners know that they should look for an HVAC contractor with licensed, insured, and background-checked technicians. But what else should you look for?
There are specific organizations that professional and experienced HVAC contractors will belong to. Here at AZ Perfect Comfort, we have accreditation and are members of some of the biggest and most reputable HVAC organizations in the US such as NATE and the ACCA. Let's take a look at what these mean and why you can feel confident about hiring a contractor with these qualifications.
NATE (North American Technician Excellence)
NATE is the largest non-profit heating, ventilation, air conditioning, and refrigeration (HVACR) organization in the US. Homeowners who hire NATE-certified technicians can feel confident that a well-trained and highly experienced technician will be working on their air conditioning systems due to the extensive training and continuing education that are required to obtain–and keep–certification.
What's Required for NATE Certification?
NATE-certified technicians must have 2 years of HVAC experience under their belts. They must also pass a rigorous series of exams that are created by a committee of HVAC experts who draw from real-world experiences and scenarios when designing these tests. A passing grade is a score of 70% or higher.
NATE certification only lasts for two years. As the 2-year mark approaches, technicians must complete continuing education or retake a specialty exam to maintain their certification. In a field where technology and regulations are constantly evolving, this ensures that their skills are up to date. You can rest assured that NATE-certified technicians possess a demonstrated knowledge of today's complex air conditioning systems.
ACCA (Air Conditioning Contractors of America)
Here at AZ Perfect Comfort, we're proud to be members of the ACCA which is a non-profit association for HVAC professionals. This organization provides 60,000 professionals with education, networking opportunities, and advocacy services that support their business development interests while championing the national health of the HVAC industry.
Members gain access to a community of thousands of HVACR professionals, educational and networking opportunities, industry events, online learning and resources, and downloadable customizable marketing materials.
The ACCA QA (Quality Assured) accreditation program serves to write the standards for quality installation and maintenance of HVAC systems in new and existing homes in order to ensure a high standard of comfortable and energy-efficient heating and cooling.
Learn why when it comes to AC repair, we're considered the most trustworthy HVAC contractor in Phoenix. We'll help you achieve the apex in home comfort.
Contact the team at AZ Perfect Comfort for AC repair in Phoenix, AZ and Feel the Comfort You've Been Missing.