Trane Comfort Specialist
Give us a call today: 602-789-3000
We are proud Trane Comfort Specialists. Not every HVAC dealer meets Trane's stringent standards and commitment to quality, education, and customer satisfaction. Each member of AZ Perfect Comforts staff undergoes continual training on the latest technology being manufactured into Trane equipment to ensure each installation is performed to the exact requirements set by Trane.
Trane has the reputation of being the best in market and our reviews designate us as the best company to install Trane. Together a Trane system installed by AZ Perfect Comfort is the highest quality HVAC installation in the Phoenix market. We do not stop at operational quality. AZ Perfect Comfort has a great focus on the customer experience. Our friendly Customer Service Agents and Comfort Advisors will make sure you are completely cared for and satisfied with the experience you have with AZ Perfect Comfort. Even one bad experience is unacceptable to our company. We are proud to say we have received ONLY five-star reviews for 2 consecutive years and counting.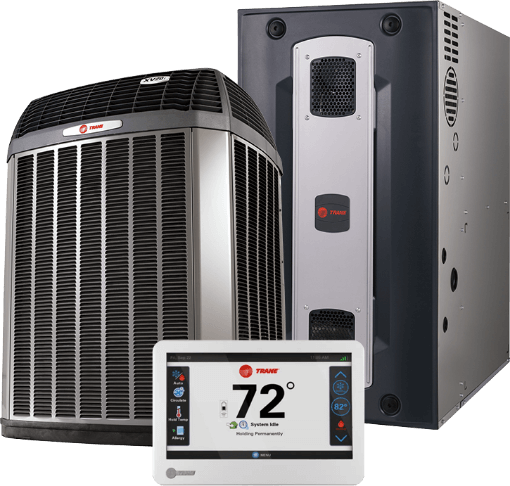 AZ Perfect Comfort installs Trane equipment because we believe they are the best air conditioners on the market, with the best warranties, and quality control. You can have peace of mind when AZ Perfect Comfort installs a Trane Comfort system in your home.
[READ MORE +]
Does Trane Cost More?
NO IT DOES NOT. Any dealer that says Trane costs more is talking from their own pocket. The benefit of Trane is their efficiency and reliability which are savings the contractor does not get to realize on their bottom line. From a consumers perspective Trane is the most financially responsible system to purchase. Trane systems will save you more in energy consumption, and in repairs than any other brand on the market. The energy savings often make up a majority of the monthly payment when financing a new system.
The great news to the customers of AZ Perfect Comfort is that since we are Trane Comfort Specialists we purchase Trane equipment at a discounted rate compared to other contractors. Those are savings that we are proud to pass along to our customers. We purchase Top-Tier Trane equipment at Mid-Tier equipment price level which enables us to give the most competitive bid when you are shopping for a new system.
HVAV customers must be aware of Mid-Tier brands being passed off as Top-Tier equipment. The Brand of HVAC equipment does matter. No matter how well a company installs a Mid-Tier unit that system is only as good as the factory it was made in. You will be glad you went with a new Trane system installed by AZ Perfect Comfort.